WHAT TO EXPECT
Thank you for considering Hampton University for proton therapy treatment. At HUPTI, our entire staff is committed to your recovery, and during the treatment process, we want you to be as comfortable as possible. To help, we've compiled some general information to get you familiar with the proton therapy experience.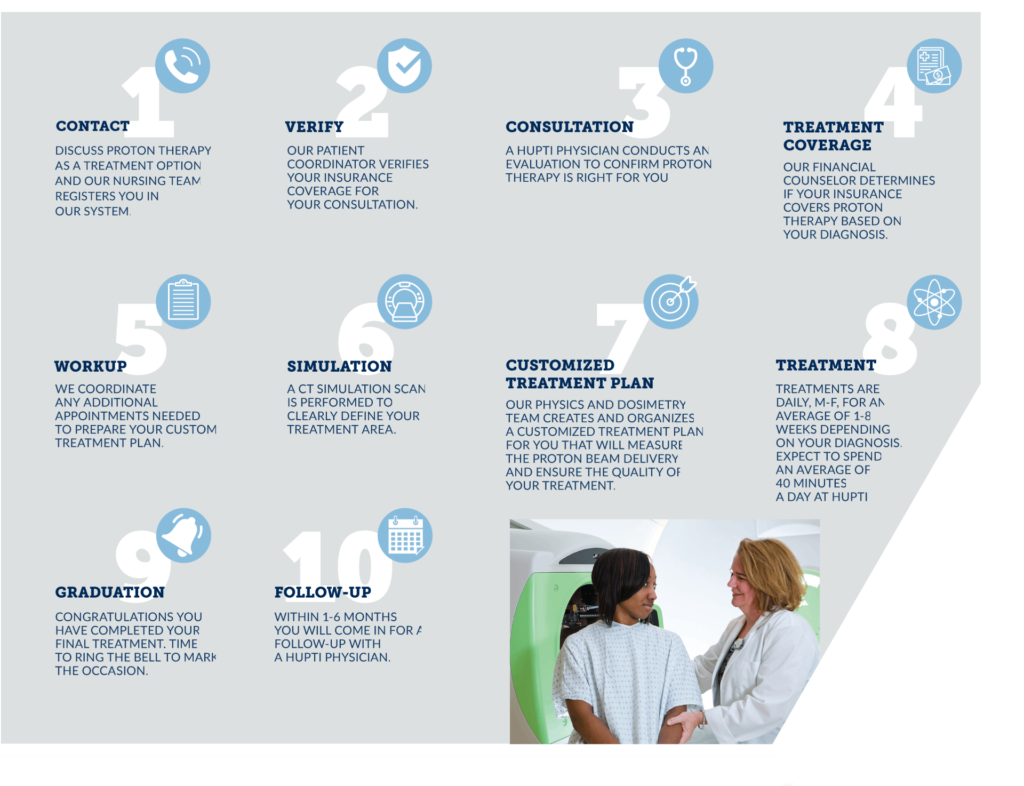 Appointments and Treatments
Pre-Consultation Preparation
We will assist you in collecting all of the documents necessary to begin your proton therapy treatment such as clinical reports, biopsy results and insurance forms. After we compile this information — which may take about a week — and your insurance has been verified, you will meet with one of our radiation oncologists for a consultation.
Please see our Journey page for first step forms.
Consultation Appointment
Your consultation will begin at our cancer treatment center with one of our radiation oncologists. If you choose, your loved ones may attend this appointment. The doctor will evaluate your specific case, discuss what treatment options may be best and answer any questions you may have. If you and your radiation oncologist decide to move forward with proton therapy treatment, outside appointments may be required.
Simulation Appointment
The simulation appointment is designed for your comfort. At this visit, you will meet some of the radiation therapy team who will create your custom immobilization device — a tool designed specifically for you to ensure accuracy during treatment. The simulation is done using either a CatScan, PET Scan or a combination of both. This will allow the radiation oncology team to determine the exact location of your tumor.
Treatments
After the planning process is complete, proton therapy treatments will be conducted by our highly skilled therapists Monday through Friday for a period of weeks, depending on your individual needs and specifics including tumor type, size, location, etc. Each appointment lasts around 30 minutes, but the actual time for the proton beam to be delivered is less than two minutes. In addition, HUPTI's treatment plans include a committed therapist program, meaning you have a dedicated friend and advocate every step of the way.
Between Treatments
Most patients experience minimal side effects, so you may be able enjoy some of the wonderful attractions the Hampton area has to offer. Visit Virginia Beach, spend a day in Colonial Williamsburg or golf at one of the world-class courses located near Hampton University.
If you are from outside the Hampton area, find out more information on traveling for treatment.
Insurance and Financial Information
HUPTI provides financial counselors who will work with your insurance company to get your claim accepted. For those without insurance, we will tirelessly seek out funding sources through private or charitable foundations.
We accept Medicare, Medicaid and most other insurance providers.
If you have more questions about proton therapy or our cancer treatment center, please submit our contact form or call 757.251.6800 to receive an information packet.