WELCOME
HUPTI Smiles provides pediatric patients with NEW toys after treatments. Pediatric patients may have up to 40 proton therapy radiation treatments. Providing pediatric patients a reason to smile is our mission.
Our first smile…
HUPTI Smiles launched in May of 2020 with six-year-old pediatric patient and brain cancer survivor, Marc-Thomas. Marc-Thomas received a wrapped gift to open after each treatment at Hampton Proton Therapy Institute. This small gesture helped Marc-Thomas and his family in many ways with dealing with his battle against cancer. During these trying times, a smile from a child goes a very long way.
Please consider donating to HUPTI Smiles, which will allow us to provide a toy/gift to all pediatric patients coming through the doors of HUPTI.
HUPTI Smiles: The What and the Why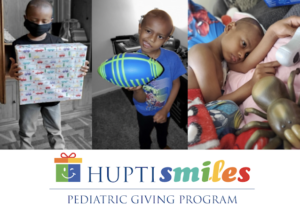 At Hampton University Proton Therapy Institute (HUPTI), we would like to make each child's experience one that is as positive as possible. Do you remember going to the dentist as a child? While few kids liked it, the thought of visiting the treasure chest made it feel a little bit better! We would like to bring a similar experience to the pediatric patients treated at HUPTI. Coming through our door for cancer treatment is a reality. How amazing will it be for each child to look forward to coming, being excited for today's surprise? Erasing some of the anxiety that is felt within these children and shifting their focus will do them, and their families, a world of good.
Our primary sponsor for 2023